Key Stage Results
We are very proud of the results that our children attain throughout their time at Cherry Tree, which culminate in Year 6 SATs achievements. We invest a lot of time and effort through a fun, engaging and varied curriculum to ensure that all children achieve their best and so preparing them for their future at secondary school and beyond. We are especially proud of our 2022-2023 results please see them below.
Please be reminded that there will unfortunately be no results for 2020 or 2021 due to Covid-19.
You can find and compare our school with other schools on the Gov.uk website. You can view and download exam and test results, Ofsted reports and financial information.
Key Stage 2 SATS
Our children in Year 6 have performed phenomenally well – we are so proud of them! We have achieved considerably above national in all areas. This is testament to the hard work of our children and staff (over the years!), aiming high and an increase of our expectations. Well done to all involved.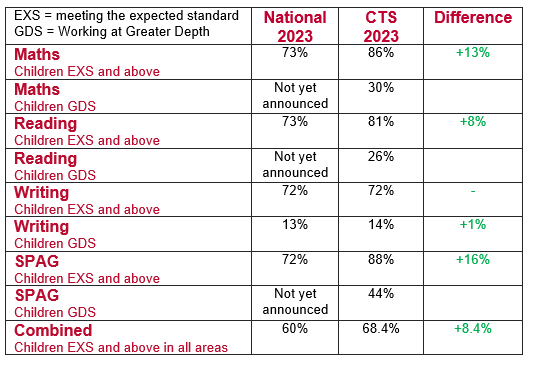 Year 4 Multiplication Timestables Check
Our children in Year 4 have completed their Multiplication Check. In this assessment, the children must complete 25 multiplication questions with just six seconds allocated for each question. Yet again, our children have excelled. Learning times tables is critically important for our children and begins when the children to learn to count. Please support them with this learning at home from an early age. Well done, Year 4!

Key Stage 1 SATS
Children in Year 2 completed their SATs in May. This year is the last academic year where SATs are statutory for children in Key Stage 1. In line with the results above from our older children, our Year 2's excelled and performed far beyond national expectations.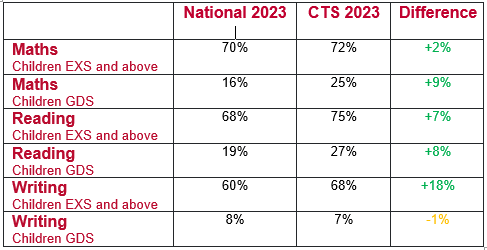 Year 1 Phonics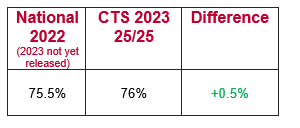 Reception – Good Level of Development (GLD)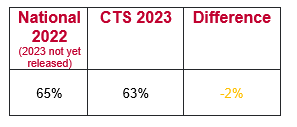 These results really do demonstrate hard work over time and a clear impact of the curriculum changes, expectation increase and the quality of teaching and learning our children receive here at Cherry Tree. Our teachers are committed to providing the very best education for our children and that passion is truly reflected in these results – thank you teachers!
We must also thank you as parents for supporting us and most importantly, our children for working hard and aiming high!