Yr 6 postcard campaign goes viral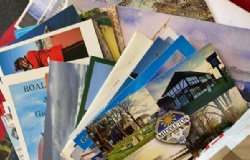 Year 6 students who unfortunately had their school trip to Swanage cancelled due to Covid have received hundreds of postcards from seaside towns all over the UK.
After speaking with the children and being aware that some children had not been to the seaside Mrs Hill posted on social media to ask residents of seaside towns to send postcards to the children to tell them what it was like to live by the sea.
The response was phenomenal and the children have received hundreds of postcards from all over the UK and as far as Australia and Malta.
Hear Mrs Hill talking to BBC Three Counties Radio discussing the success of the project.