Major visits Cherry Tree with support for Biodiversity Garden Project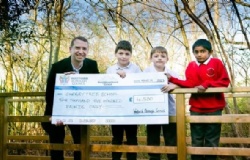 Thanks to a nomination from our Friends Cherry Tree Primary School have been awarded £4,500 in funding from Watford Council's Neighbourhood Grant to create a biodiversity garden.
This new outdoor learning area will be used by all students and will include sensory equipment with a nature theme, so that children can learn all about the environment, even in the colder months. The sensory element will give an opportunity for peace and reflection time, decreasing stress and anxiety and promoting happiness.
The new green project will also enhance the local biodiversity at Cherry Tree by attracting birds and bee pollinators to the wildflowers and bug city homes. It will also provide many benefits of outdoor learning, including opportunities for children to work together, develop their communication and language, social, problem-solving, and team-building skills.
Cherry Tree School has a thriving community and hosts many successful events for the school children, their families, and local residents. This outdoor space will be available to all the children during the school day and will also be accessible to families and local residents during events such as summer fairs.
Elected Mayor of Watford, Peter Taylor, said: 'This school is passionate about nature and the environment. Their eco council have designed a biodiversity garden, and I'm thrilled that this funding will turn the pupils' ideas into an inspiring nature garden.This will not only enhance the local biodiversity at Cherry Tree, but also enrich the children's outdoor learning opportunities, enabling them to explore, learn, and thrive.'
Headteacher at Cherry Tree Primary School, Cheska Tyler, said 'We are excited to see this project come to life, and we look forward to the many benefits it will bring to our children, school and wider community. We already love learning outdoors, so we believe that this new area will enhance our opportunities for peace and reflection time, but also decrease any worries our children might have. We believe it will promote happiness and encourage our children to learn more widely using their senses, continuing to promote a love of nature for all.'