Proms in the Playground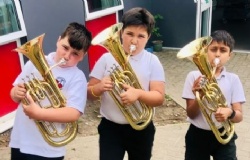 Cherry Tree recently featured in the i Newspaper news in relation to a series of school-based concerts taking place between 5 and 23 July 2021. Dubbed "Proms in the Playground", community brass bands and other local musicians will visit schools to captivate young people with a festival of music.
Our Assistant Head, Emma Hill says Covid has denied children many of the communal experiences that normally punctuate the year. "We haven't even been able to have assemblies, which would be when you come together as a community… children haven't been able to go on school trips, which is really sad." Proms in the Playground will provide the school with "our one big event that we'll have this year," she says.