IMAT Donates Hundreds of Food Boxes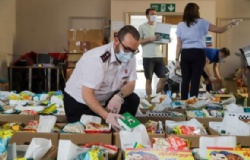 The Inclusive Multi Academy Trust teamed up with the Watford Salvation Army to raise £3,215 in just 72 hours to raise funds for boxes of food.
With the help of the community - including Watford MP Dean Russell and Mayor of Watford Peter Taylor - the trust put together and distributed 120 boxes to be donated to families over the Easter period.
Nicola Furey, the pastoral lead at Laurance Haines School, cycled 26.2 miles on an exercise bike in her home to raise an additional £1,200, which will help fund a further 176 food boxes. Read the full article covered by the Watford Observer.