Cherry Tree School Receives British Council International School Accreditation Award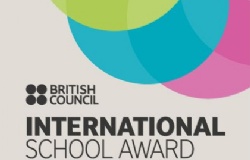 Cherry Tree School's collaboration with their Spanish partner was recognised.
The British Council's International School Award is a globally recognised accreditation which helps schools to enrich learning and improve teaching by guiding their international learning activities, from introducing international education into the curriculum to embedding it within the school's culture.
Cherry Tree School was recognised as having a very active collaboration with their Spanish partner school which is permeating almost all areas of the school and significantly enhancing language skills and cultural understanding. Their most recent OFSTED inspection commented on the quality of language learning for all children. Cherry Tree School took part in a range of international activities carried out in the last year which have all included opportunities for collaboration with their Spanish partner.
Of particular note, staff at Cherry Tree School are learning about Spanish language and culture alongside their pupils by attending classes with a specialist teacher. The school intends to maintain and develop the opportunities that have been created over a period of time within the curriculum and with their Spanish partner school.